04 Jul, 2017
By Winnefy
Tips & Tricks
343
Ah, is wedding season. That time of year has finally arrived. The warm breeze in your hair, the sunset off in the distance and evenings capped off with chilled champagne, French of course. Your big day is a celebration of love and commitment, a day that's meant to be shared with friends and family.
Festivities like these are stressful enough, so before you go full 'bridezilla' on your maid of honor, consider creating a wedding website that basically organizes itself. It's fun, practical and a great way to manage all the logistics leading up to your big day so you can be present in the detailed moments that really matter.
Feeling a little overwhelmed? Not to worry, we've got all the must-haves you'll need to include when creating your stunning (and information-packed) wedding website:
1.

Choose your template
First things first, you'll want to choose one of our wedding website templates to get your inspiration flowing. Are you an elegant, sophisticated duo or are you more of a shorts and flip flops on the beach kind of couple? Whatever your style may be, we've got a template to suit. Depending on what you need, you can create a full site including all the wedding essentials (even your love story), or just a simple landing page with the most important details.
2.

Make it yours
Once you've chosen a template, we will customize everything for you based on your requirement. From the color scheme to the font's style, we can help you modify every elements of your site to give it your unique touch. Be sure to provide us your contact information, share the location of the wedding venue using Google Maps and get personal by uploading those gorgeous engagement shoot pictures. As you get closer to the big day, get your guests on your excitement level (if that's even possible?) and include a countdown clock? Yes, we can help to integrate a countdown clock into your site.
3.

Organize all your events like a pro
Planning a wedding weekend extravaganza? Sounds fancy (and like a lot of planning). Luckily, with the latest features from Winnefy Events System, you can easily create multiple 'mini-events' within. Dream with us for a second: Friday night is the rehearsal dinner, Saturday at 5 pm is the ceremony, followed by the reception. Ending things off on Sunday with a boozy brunch. In order to keep yourself and your guests organized, you can create individual events that show the date, time and the option to RSVP. This way, everyone will know what's going on for the event of the year (your wedding).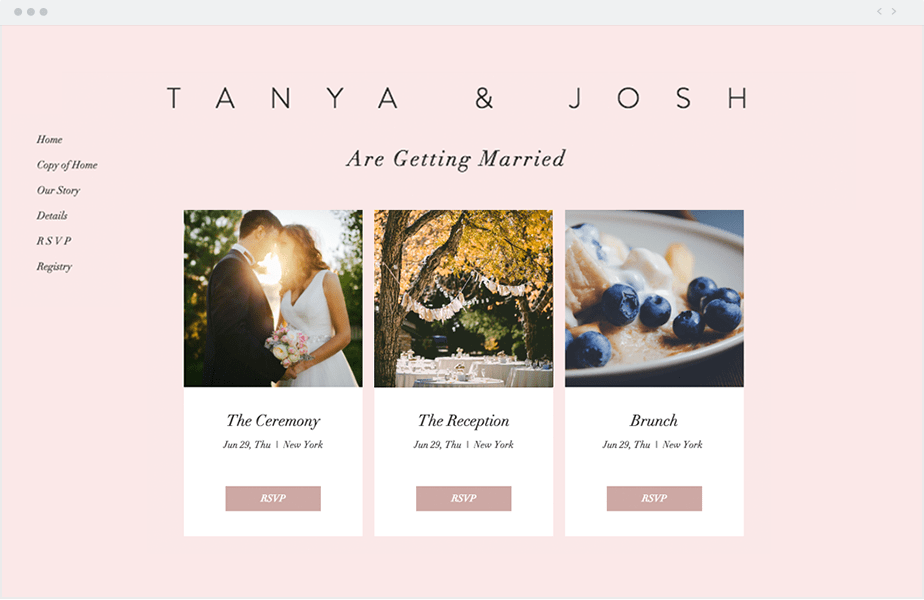 4.

Send out your invitations
Dazzle your guests with a flawless invitation they won't be able to say no to. No more budget left for a designer? No problem. With the email marketing tool provided by us, you can create a stunning invitation right inside of your system. All you have to do is choose from one of the stunning templates, customize your text and add your image(s). Once those are ready to be sent off, simply add in your contacts, customize the email details and you're ready to hit send. Want to spread the word of your event? Share all the details on your social media channels in just a click! You can even use this as an opportunity to launch your site by including a link at the bottom of your invite.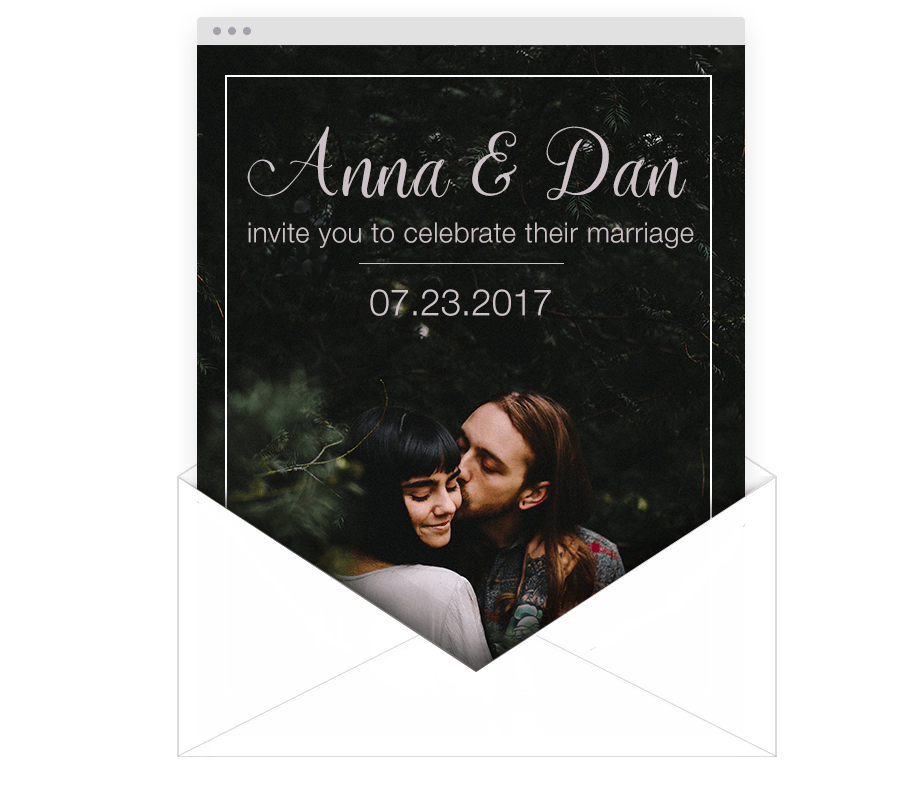 5.

Follow up with your guests
It goes without saying that gathering your guest list to your wedding is time-consuming, unpredictable and often frustrating. Basically everything a bride does not need to deal with. Fortunately, thanks to our Events Management System (we've got you covered!), you can manage all your RSVPs by either receiving individual notifications or a daily update of all the guests that either accepted or declined. Plus, you can send out confirmation emails after guests have responded to your invite and a reminder email as the date draws near.
6.

Keep the memories alive
After you've tied the knot and all the excitement and pressure from your long-anticipated day has worn off, why not reminisce and relive those joyful moments through your pictures and videos. Share highlights with all your loved ones who were there for you on your phenomenal day by presenting your professional pictures in your website's gallery page. You can also upload your videos using the admin portal that we created for you.
In a nutshell, let your website take care of all the planning so that you can dance the night away!
Ready to showcase your big day? Hire Us to Create A Professional yet Addordable Website Today!